***SPONSORSHIP OPPORTUNITIES***

Would you like to...
drive business sales;
heighten business visibility;
increase brand loyalty;
show your community responsibility?

Our sponsorship opportunities are created to benefit both the sponsor & the fire company for our carnival. Sponsorships will go toward entertainment such as live music, fireworks and to offset food costs. If you are in the Nazareth, Wind Gap, or Lehigh Valley area, contact us within for any interest or inquiries.
Thank-you for supporting our annual fire company carnival!
Thank-you to our sponsors! We cannot do it without you!
Bronze Level 2017 Sponsors
Silver Level 2017 Sponsors
Gold Level 2017 Sponsors
Carnival July 4 - 7 2018
Each summer the fire company hosts an annual carnival with rides, food, games, and live music. This is one of our biggest fundraisers of the year so please come out and support your local fire company and emergency responders! The carnival is located on the fire company grounds, check the map below! Some of the highlighted events are listed below.
Fire truck rides on a REAL 1974 Mack CF fire truck that is in regular service
Live music
Silent Auction (In BINGO hall)
Bingo
30+ Vendors & Crafters
Food & Drinks
Rides
Games
Pony Rides by Step Back In Time Equine (Located in the Wooded Fire Co. Grove)
Beer Garden
Fireworks (Friday)
Interested in Volunteering?!?!
Night Time help would require working in a food stand or game stand. (Must be 18 yrs or older to work near the hot food - under 18 can help serve food).
Daytime help usually meeting in the mornings would include restocking of food stands with supplies and minor garbage pickup from the grounds and parking area. If you are available and want to help on Monday or Tuesday to help prepare for the event, that is also welcome.

Our Menu includes:

DRINKS: Soda, iced tea, lemonade, water, beer, hot chocolate, coffee, hot tea

FOOD: Hot dog, hamburger, cheese burger, hot dog & sauerkraut, hot pretzel, apple dumplings, steamed clams, steak & cheese steaks, sausage, French fries, pierogies, chicken fingers, shrimp, pizza, onion rings, funnel cake, fried Oreos, cotton candy, candy apples, popcorn, waffles & ice cream, roasted corn on the cob
Details will be added as we get them! Check back often!

Wednesday July 5th - Hours: 6-10pm -- Flirt'in With The Mob 7-10pm -- $15.00 Ride Night -- PA WoodMobile -- Pony Rides -- National Guard Video Game Trailer -- Crunch Time RC Truck Racing

Thursday July 6th - Hours: 6-10pm -- Social Call 7-10pm -- $15.00 Ride Night -- PA WoodMobile -- Pony Rides -- National Guard Video Game Trailer -- Crunch Time RC Truck Racing

Friday July 7th - Hours: 6-11pm -- New Individuals 7-11pm -- ***Fireworks!*** (shot off from recreation fields) -- Pony Rides -- Nazareth Action Karate Demo Team Demonstration at 7pm -- National Guard Video Game Trailer -- Crunch Time RC Truck Racing

Saturday July 8th- Hours: 5-11pm -- Crazy Hearts 7-11pm -- $15.00 Ride Night -- Pony Rides -- National Guard Video Game Trailer -- Pink Heals Lehigh Valley Chapter Fire truck -- (Fireworks Raindate) -- Crunch Time RC Truck Racing
2017 Carnival Map - Be sure to check out our many new vendors!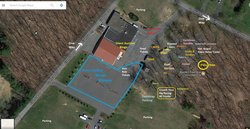 ---
2017 Vendors include:
Geaker's Tacos
Jimmy Lee & Momma D's Roasted Corn & Potatoes
Caribbean Noodles Vegan Foods
Devious Design Sign Shop
Creature Comforts Adoptions
Facepaint/Glitter Tattoos/Balloon Figures
Busy Beehive
LulaRoe
Bath Fitter
Scentsy Flameless Candles
Origami Owl
State Representative Marcia Hahn
Senator Mario Scavello
Solar City
The Phone Kings
Renewal By Anderson of Northeast PA
Yeti Cups/Coolers

Unique Finds (Recycled Glass)
Nazareth Clippers Lacrosse Dunktank
Aims Oil
Pink Zebra
Army National Guard Recruiting Station
Army National Guard Video Game Trailer
ICS Sparkle Car Wash
Tupperware
Farmhouse Quilts & Crafts
CostCo Wholesale (Friday Only)
Novelties & Flags
Henna Tattoos
Nazareth Action Karate (Demo Team Demonstration Friday)
Primerica
We Got This PA
Blue Valley Rescue Squad Lottery Tickets
Washington Twp. Fire Co. ATV Raffle
NEW for 2017!!! Crunch Time RC Truck Racing!
Crafters - Vendors - Businesses - Displayers
Wanted For 2018!
​
Email: admin@bushkilltownshipfireco.com for details